TPG Support
Network Termination Device
The Network Termination Device (NTD) or NBN Connection Box has several ports on the bottom to deliver telephone and internet services. TPG will tell you which Data and Voice ports are active so that you can connect your router and home phone device to those ports.
Please ensure your Network Termination Device is turned on and connected to the power supply. If this is done correctly the power light on the Network Termination Device should be lit.
Data and Voice Ports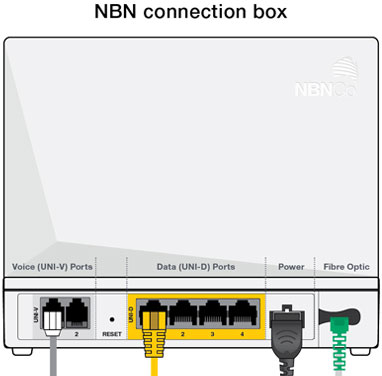 Indicator Lights
If your TPG NBN Broadband with Home Phone connection is working correctly, the power, optical, and one of the UNI-D ports should be lit (either green or yellow) as illustrated below. The UNI-V port will be lit green when the phone is in use.

If the Optical, Alarm or Update lights are red, please contact our Technical Support Team on 13 14 23
Power
Your Network Termination Device must be connected to the power supply with battery backup. This power supply must be directly connected to a power outlet.