TPG Support
Network Termination Device
The Network Termination Device (NTD) or NBN Connection Box has 1 data (UNI-D) ports to deliver internet services, including voice over the internet.
Please ensure your Network Termination Device is turned on. If this is done correctly the power light on the Network Termination Device should be lit.
Ports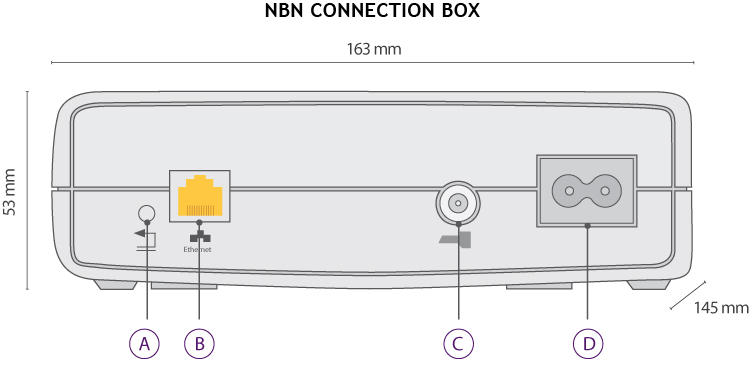 A. Reset button: resets your NBN Connection Box.
B. Data (UNI-D) port (yellow): for Ethernet cable connection to your supplied TPG NBN modem router.
C. Connector for the coaxial cable that will connect your NBN connection box to your wall outlet or splitter.
D. Connector for power cord.
Indicator Lights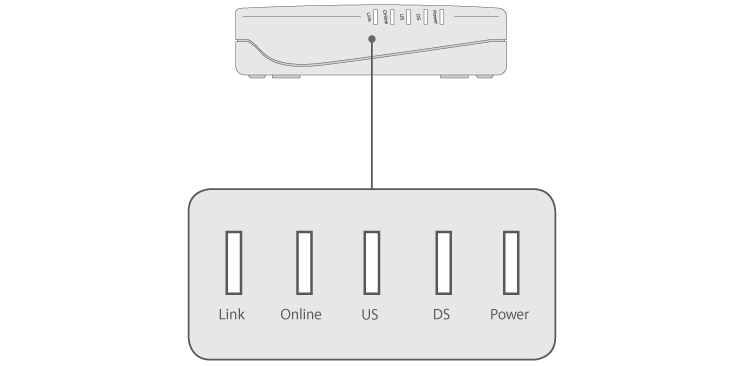 Link.

Ethernet connectivity between your nbnTM connection box and gateway (router).

Online.

nbnTM network connection.

US.

Upstream connectivity.

DS.

Downstream connectivity.

Power.

AC power.
Indicator lights: start-up sequence
Link
Online
US
DS
Power
Mode
Off
Off
Off
Off
Off
No power to the nbnTM connection box
Flash
Flash
Flash
Flash
Flash
Power-on self test
Off
Off
Off
Flash
On
Downstream search
Off
Off
Flash
On
On
Downstream found; upstream search
Off
Flash
On
On
On
Downstream and upstream found;
retrieving setup information from nbn
On
On
On
On
On
Ready for service
Indicator lights: normal operation
| | | | | | | | | | | |
| --- | --- | --- | --- | --- | --- | --- | --- | --- | --- | --- |
| Link | | Online | | US | | DS | | Power | | Mode |
| On | | On | | On | | On | | On | | Ready for service |
| On | | Off | | Flash | | Flash | | On | | Not connected to the nbnTM network |
| On | | On | | Flash | | Flash | | On | | Firmware upgrade |
| Off | | Off | | Off | | Off | | Off | | No power to the nbnTM connection box |