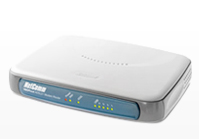 Checking for the firmware and revision version on NB1, NB5+4 and NB5+4W
Open your browser and enter 192.168.1.1 in your address bar
Enter the username and password of your router. By default it will be Username: "admin" and Password: "admin" or if you have changed this, please enter the new username and password
Click on 'Advanced Settings'
Click on 'Home' tab and make a note of the 'Software Version'. This will indicate your firmware version

Please Note: TPG will endeavour to always have the most current set up instructions that reflects the latest firmware. Please always refer to the manufacturers website for the most current firmware updates

Consult the manufacturer or their site to see if this is the latest version. If not it is recommended that you perform an upgrade. The manufacturer can help with this
You also need to note the revision of your router. If the 'Software Version' starts with 1 then this is revision 1. Now continue to follow Configuration of IPTV for NB1, NB5+4W and NB5+4 (revision 1).
If it starts with 2 then this is revision 2. Continue to follow Configuration of IPTV for NB1, NB5+4W and NB5+4 (revision 2)
NB1, NB5+4W and NB5+4 (revision 1)
Configuration of IPTV for NB1, NB5+4W and NB5+4 (revision 1)
Open your browser and enter 192.168.1.1 in your address bar
Enter the username and password of your router. By default it will be Username: "admin" and Password: "admin" or if you have changed this, please enter the new username and password
Click on 'Advanced Settings'
Click on 'Setup' at the top and then 'New Connection' on the left side menu
In the Name field type "IPTV"

In the Type field select "Bridge"

Select Sharing as 'Disabled'

Select Encapsulation as LLC'

In the Select LAN field select 'LAN group1'

In the VPI filed type "0"

In the VCI filed type "35"

In the QOS filed select "UBR"

Make sure the Auto PVC is unticked
Click 'Apply'
Click 'Advanced' at the top followed by 'Multicast' on the left side menu
Tick 'Enable IGMP Multicast'

Select 'QuickStart'
Click 'Apply'
Now you need to save & reboot the router

Click on 'Tools' at the top

Click on 'System Commands' on the left

Click the 'Save All' button followed by 'Restart'



To edit/check the settings of IPTV on NB1, NB5+4W and NB5+4(revision1)
Open your browser and enter 192.168.1.1 in your address bar
Enter the username and password of your router. By default it will be Username: "admin" and Password: "admin" or if you have changed this, please enter the new username and password
Click on 'Advanced Settings'
Click on 'Setup' at the top and then 'IPTV' on the left side menu
Check the following settings:

In the Name field you should have "IPTV"

In the Type field 'Bridge' should be selected

In the Sharing field 'disabled' should be selected

Encapsulation should be 'LLC'

In the Select LAN field 'LAN group1' should be selected

VPI should be "0"

VCI should be "35"

In the QOS filed 'UBR' should be selected

Make sure the Auto PVC is unticked
If you made any changes, click on 'Apply'
Click 'Advanced' at the top followed by 'Multicast' on the left side menu
Check the following settings:

'Enable IGMP Multicast' should be ticked

'QuickStart' should be selected
If you made any changes, click on 'Apply'
Now you need to save & reboot the router

Click on Tools at the top

Click on 'System Commands' on the left

Click the 'Save All' button followed by 'Restart'
To delete the IPTV profile from NB1, NB5+4W and NB5+4 (revision 1)
Please Note: This will not effect your Internet connection
Open your browser and enter 192.168.1.1 in your address bar
Enter the username and password of your router. By default it will be Username: "admin" and Password: "admin" or if you have changed this, please enter the new username and password
Click on 'Advanced Settings'
Click on 'Setup' at the top and then 'IPTV' on the left side menu
Click on 'Delete' at the bottom
Now follow the instructions to configure IPTV on the router again
NB1, NB5+4W and NB5+4 (revision 2)
Configuration of IPTV on NB1, NB5+4W and NB5+4 (revision 2)
Click on 'Setup' at the top and then 'New Connection' on the left side menu
In the Name field type "IPTV"

In the Type field select "Bridge"

Select Sharing as 'Disabled'

Select Encapsulation as LLC'

In the Select LAN field select 'LAN group1'

In the VPI filed type "0"

In the VCI filed type "35"

In the QOS filed select "UBR"

Make sure the Auto PVC is unticked
Click 'Apply'
Click 'Advanced' at the top followed by 'Multicast' on the left side menu
Tick 'Enable IGMP Proxy'

Select 'Downstream' for the QuickStart interface

Select 'Upstream' for LAN group 1
Click 'Apply'
Now you need to save & reboot the router

Click on 'Tools' at the top

Click on 'System Commands' on the left

Click the 'Save All' button followed by 'Restart'
To edit/check the settings of IPTV on NB1, NB5+4W and NB5+4(revision2)
Open your browser and enter 192.168.1.1 in your address bar
Enter the username and password of your router. By default it will be Username: "admin" and Password: "admin" or if you have changed this, please enter the new username and password
Click on 'Advanced Settings'
Click on 'Setup' at the top and then 'IPTV' on the left side menu
Check the following settings:

In the Name field you should have "IPTV"

In the Type field 'Bridge' should be selected

In the Sharing field 'disabled' should be selected

Encapsulation should be 'LLC'

In the Select LAN field 'LAN group1' should be selected

VPI should be "0"

VCI should be "35"

In the QOS filed 'UBR' should be selected

Make sure the Auto PVC is unticked
If you made any changes, click on 'Apply'
Click 'Advanced' at the top followed by 'Multicast' on the left side menu
Check the following settings:

'Enable IGMP Proxy' should be ticked

'Downstream' for the QuickStart interface should be selected

'Upstream' for LAN group 1 should be selected
If you made any changes, click on 'Apply'
Now you need to save & reboot the router

Click on Tools at the top

Click on 'System Commands' on the left

Click the 'Save All' button followed by 'Restart'
To delete the IPTV profile from NB1, NB5+4W and NB5+4 (revision 2)
Please Note: This will not effect your Internet connection
Open your browser and enter 192.168.1.1 in your address bar
Enter the username and password of your router. By default it will be Username: "admin" and Password: "admin" or if you have changed this, please enter the new username and password
Click on 'Advanced Settings'
Click on 'Setup' at the top and the 'IPTV' on the left side menu
Click on 'Delete' at the bottom
Now follow the instructions to configure IPTV on the router again