INTERNET FOR ALL
Home Wireless Broadband, Fibre to the Building, NBN. We offer a range of amazing broadband services to cover every home, lifestyle, and budget.
And, because it's TPG, you know you'll be getting award-winning value and a provider trusted by over two million customers.
WHAT IS HOME WIRELESS BROADBAND?
Home Wireless uses the same mobile networks as your smartphone to access the internet. A modem – much like the one you get on an NBN plan – amplifies the signal across your home to deliver a solid connection.
As the Home Wireless modem uses mobile technology (it has a SIM card rather than a wall connection) you can easily move it around your home to sit wherever there is a power socket. It also means that you won't need to wait for an installation appointment or technician – just plug in and go.
Find out more about TPG Home Wireless Broadband
WHAT IS FTTB?
TPG Fibre to the Building (FTTB) is a high-speed broadband service delivered on our own fibre optic network that has been installed in many metro apartment buildings across Australia.
Our fibre runs directly into the communications room of the apartment building and, from there, individual units are connected via internal cabling using a technology called Very-high-bit-rate Digital Subscriber Line 2 (VDSL2).
As the whole process only uses a short run of copper – or, in some newer buildings, none at all – our FTTB can support fast connection speeds.
See if your building is connected to TPG FTTB.
WHAT IS NBN?
The National Broadband Network (NBN) is an initiative from the Australian Government with the aim to improve internet connection for all Australian homes by replacing copper wires with optic fibre and other modern technologies.
For people in densely populated areas, you will likely be connected via Fibre to the Premise (FTTP), Fibre to the Node (FTTN), Fibre to the Building (FTTB), Fibre to the Curb (FTTC) or Hybrid Fibre Coaxial (HFC) and for people in more remote areas Fixed Wireless may be available.
Find out which NBN connection is available at your home.
FIND OUT HOW TPG CAN CONNECT YOU TO THE INTERNET TODAY!
Compare some of our popular broadband plans below.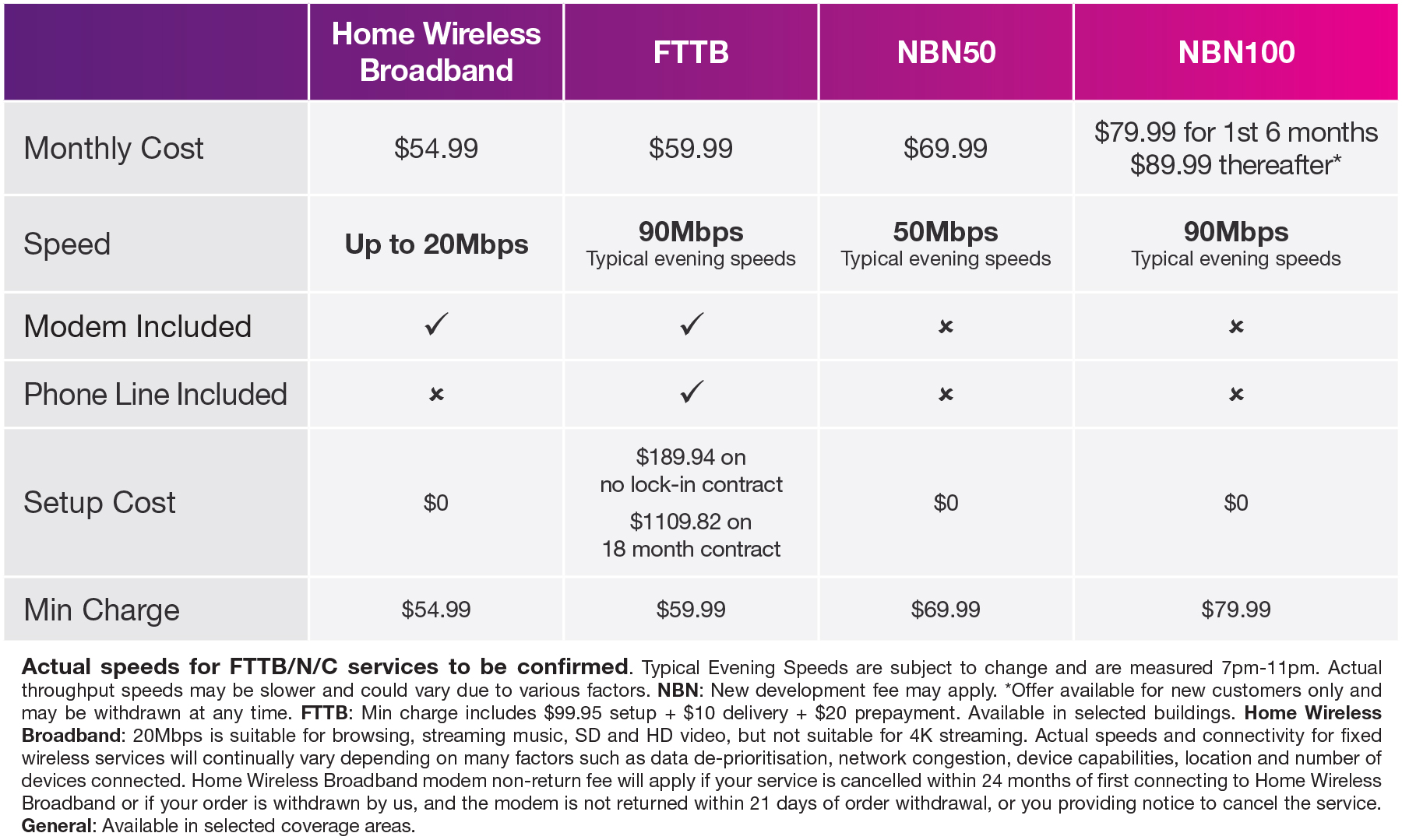 EXTRA DETAILS
NEED A MODEM?
Our internet bundles come with a high-speed Wi-Fi modem included.
TYPICAL EVENING SPEED
Typical Evening Download speed is measured between 7pm and 11pm. The actual speeds for the service may be slower and vary due to a number of factors.
TPG AND NBN FTTB DIFFERENCE
With TPG FTTB you're connected directly to our network rather than detouring via NBN's network. This results in fewer hops between you and what you're looking for online, leading to a more seamless experience.