TPG Support
TPG Standalone ADSL2+ FAQs
Please click one of the following links for quick access:
What is ADSL2+?
ADSL2+ is the next generation of ADSL broadband with download speeds typically much faster than regular ADSL. Regular ADSL broadband has download speeds between 256kbps and a maximum theoretical speed of 8Mbps. ADSL2+ will allow you to enjoy large file downloads, graphic intensive online gaming, online streaming TV and radio, VoIP phone service as well as new applications and services currently being developed for super speed connections.
To achieve optimal TPG ADSL2+ speeds, customers must use an ADSL2+ capable modem and have filters installed on all telephone outlets. More than 50% of TPG's ADSL2+ customers obtain connection speeds exceeding 10Mbps. Actual speeds achieved will vary due to a number of factors including distance from the local telephone exchange, network configuration and traffic, the quality of the customer's copper phone line, EMI, cabling and equipment.
The graph indicates the potential connection speed obtainable for ADSL2+ based on your distance from the local phone exchange, using an ADSL2+ compatible modem/router: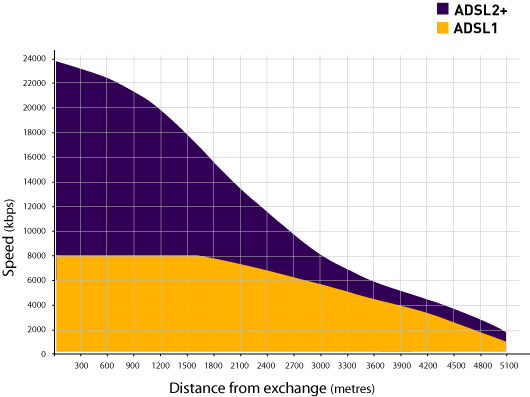 Do I need any special equipment to get ADSL2+ speeds?
Yes, you will need a modem/router that is compatible with ADSL2+ to achieve super fast ADSL2+ download speeds. You can purchase an ADSL2+ compatible modem/router supported by TPG at the time of registration.
Please check the manufacture's website to see if it ADSL2+ compatible. Please note many modems/routers are firmware upgradeable to ADSL2+.
If your ADSL modem/router is only ADSL1 compatible, you will only be able to achieve speeds up to a maximum of 8Mbps (8 Megabits per second or 8,000 Kilobits per second).
Please note: The maximum download speeds attainable on TPG's ADSL2+ service depends on many factors, including the distance from your local exchange. Customers that live more than 3.5kms from the exchange may not notice any significant increase in service speed on ADSL2+, however will experience a more stable and reliable connection if using an ADSL2+ compatible modem/router.
The closer you are to your exchange, the higher your ADSL2+ speeds will be. Most Metro customers live within 3.5kms of their exchange.
Can TPG guarantee ADSL2+ service compatibility with my telephone line?
In some cases technical limitations on your phone line mean we cannot provide you ADSL2+ service. This could include your telephone line being connected at a sub-exchange or "RIM" which uses cabling that is incompatible with ADSL2+. If you are unsure, please contact Customer Service on 13 14 23. We recommend you do not purchase a modem/router from any third party unless your registration has progressed and your telephone line is confirmed as ADSL2+ compatible.
Is the ADSL2+ upload speed determined by distance? If so, within what ranges is the 1Mb speed advertised accessible?
The upload speed is not affected by distance from the exchange as significantly as the download speed is. A decrease of upload speed will be experienced with increased distance from the exchange, but users within 2km of their exchange are usually going to achieve close to maximum upload speed. Note: There are other factors in addition to distance that will effect data transfer speeds such as quality of phone line, EMI (ElectroMagnetic Interference), the number and type of other services using the line, the capacity of the uplink and customer's modem/router.
If I have an ADSL2+ incompatible modem/router, will I in the future be able to take full advantage of ADSL2+ speeds?
Yes, at any time you can replace your existing ADSL2+ incompatible modem/router with one that is ADSL2+ compatible and you will notice you can achieve ADSL2+ download speeds when on the Internet. You do not have to notify TPG of this change.
Will I need to reconfigure my modem/router for ADSL2+?
If you have been using a modem/router with your ADSL service, which is already ADSL2+ compatible, you will not need to reconfigure it.
If you have purchased an ADSL2+ compatible modem/router from TPG upon registration, you just need to ensure your modem/router holds your current password. If you require assistance with this, please contact the TPG Technical Support on 13 14 23.
When and where in Australia are you installing TPG DSLAMs?
You can check the coverage and progress of our ADSL2+ DSLAM rollout online at
http://www.tpg.com.au/dslam/
. This schedule represents our current intentions.
Various factors beyond our control may affect the schedule. To ensure you have the latest information, please check the list periodically. If you think you may be interested in TPG ADSL2+ when it becomes available in your area, please fill out our online form to register your interest.
Why is TPG not installing a DSLAM at my exchange now?
If your exchange is not listed on the
http://www.tpg.com.au/dslam/
page, it is still possible that we will provide the ADSL2+ service there, and simply haven't scheduled it yet.
Our decisions on DSLAM installation are dependent on many factors, such as the level of customer demand and the cost of building DSLAM infrastructure. Please register your interest in ADSL2+ to help us assess the demand for ADSL2+ in your area.
Can I apply for fast transfer/churn from another ISP to TPG ADSL2+?
If your current ISP is participant of the ADSL2+ Churn process, you can apply for fast transfer/churn to TPG's ADSL2+ service. The turnaround time is less than a new installation.
Click here
for further information.
I have ADSL with TPG, can I upgrade to ADSL2+?
When your telephone exchange becomes ADSL2+ compatible, you can upgrade to ADSL2+ through the online account management section "
Your Account
". The process should take between a few minutes to a few hours with no need to cancel the existing plan. Change of Plan fee will apply as displayed on
Additional Pricing
page. For further information please contact TPG Customer Service on 13 14 23.
If ADSL2+ is ready at my exchange, can I still join one of the currently available ADSL packages?
Unfortunately no. If your exchange is ADSL2+ ready, only ADSL2+ plans will be offered to you.
How long does it take to get ADSL2+ installed on my nominated phone line?
Registration - allow 1 working day
TPG receives the completed ADSL Registration form and verifies that the customer has completed all relevant sections.


Verification/line qualification - Usually same day unless further testing is required.


Initial charging - Usually same day unless further investigation is required. After qualification is successful TPG bills the customer for: Set-up cost (if applicable)
Equipment (e.g. modem/router if purchased through TPG)
Equipment delivery fee (if applicable)
The first subscription fees are billed monthly, quarterly or another term as specified for the customers plan.

Note: Billing period will commence when the service is first activated. Installation will proceed on receipt of payment. Allow 5 working days for direct debit processing.


Service Activation Request - allow 3 working days
Physical provisioning of the ADSL service and configuration of the customer's requested line.


Equipment Configuration and Delivery

Your modem will be couriered directly to you after TPG has configured it.

Delivery to metro areas and major towns will take between 1-2 business days and delivery to rural and remote areas will take between 2-5 business days.


Installation of Service - Customer and Dealer will be advised of installation by e-mail.

Please Note: working days do not include National or Public holidays and weekends