TPG Support
Troubleshooting Your Internet Connection
ADSL Filter/Splitter Setup Guide
ADSL filters are required to connect telephony devices to your phone line without causing interference to your ADSL2+ Internet connection.
Common telephony devices include:
– Telephones
– Fax machines
– Foxtel
– Back to base alarms
– EFTPOS machines
Every connected telephony device in your premises must be connected to your phone wall socket/s using ADSL filters. Note that these telephony devices could be connected to different phone wall sockets around your home. Please see example in the diagram below.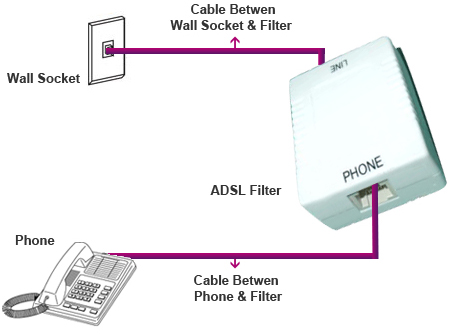 Your ADSL2+ modem must not be connected to a filter to work properly, however other telephony device (e.g. telephone) connected to the same phone wall socket as your modem does require a filter. In this situation you need an ADSL splitter. A splitter works in a very similar way to a filter, the only difference is that it also allows unfiltered signal to go through to your modem. Please check that your cabling is done the right way as shown in the diagram below.

If you do not have an ADSL filter/splitter or if you suspect that yours is faulty or old, please purchase a new one from your local computer store such as Dick Smith or Harvey Norman.