TPG Wavelength Services
Quickly move large volumes of data between sites with TPG's Wavelength Services. This carrier-grade offering is based on state-of-the-art Optical Transport Network technology - known to TPG as our Super Highway - and leverages best-of-breed infrastructure. Providing secure point-to-point transmission links of up to 100Gbps, Wavelength Services are perfect for critical and latency sensitive applications such as disaster recovery, real time video, storage area networking, data centre connectivity and high-frequency trading.
 
TPG offers 2 Wavelength Service solutions:
1. DCWave - Supports connectivity between 2 sites that are located in any of TPG's strategically positioned network Points of Presence (PoPs).
2. OfficeWave - Supports connectivity between 2 sites when at least 1 of the sites is located at a customer premise. This solution leverages TPG's national fibre network to extend service availability to virtually any location.
SPECIFICATIONS
Network Topology
DCWave - point-to-point connectivity between 2 TPG PoPs
OfficeWave - point-to-point connectivity between 2 customer sites (at least 1 site is located in a customer's premises)
Access Technology
Fibre (DWDM) - Wavelength
Coverage
Metro and inter-capital
Speeds
10Gbps
100Gbps
Supported Network Interfaces
Service Type
Speed
Client Protocol
Customer Interface Type
DCWave
OfficeWave
SDH
10Gbps
STM-64/OC-192
STM-64, I-64.1 (1310nm, SMF, 10km)
x
x
STM-64, S-64.2b (1550nm, SMF, 40km)
 
x
Ethernet
10Gbps
10GBASE-xR
10GBASE-LW/LR (1310nm, SMF, 10km)
x
x
10GBase-EW/ER (1550nm, SMF, 40km)
 
x
100Gbps
100GBASE-R
103.1G-111.8G, 10x10G WDM, SMF, 1550nm, 2km
x
 
103.1G-111.8G, 10x10G WDM, SMF, 1550nm, 10km
x
x
Fibre Channel
Various
FC400
SM-M 1310nm, 10km
x
x
SM-L 1310nm, 10km
x
x
FC800
1310nm, SMF, 10km
x
x
FC1200
1310nm, SMF, 10km
x
x
OTN
10Gbps
OTU2/OTU2e
103.1G-111.8G, 10x10G WDM, SMF, 1550nm, 2km
x
 
100Gbps
OTU4
103.1G-111.8G, 10x10G WDM, SMF, 1550nm, 10km
x
x
How it works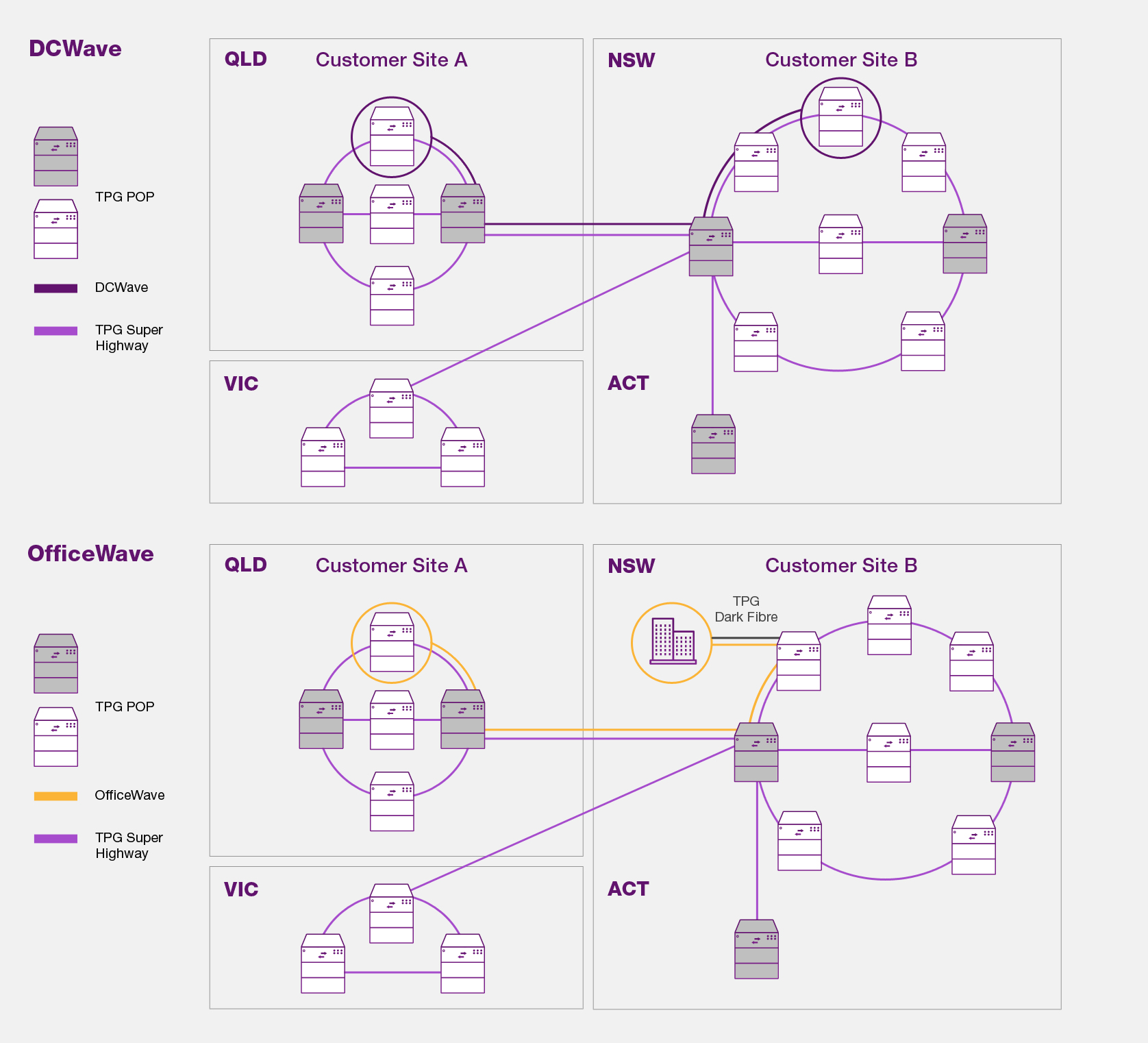 Interested? Talk with a solutions specialist