About TPG
TPG is proudly part of the TPG Telecom Limited (ASX: TPG) group of companies, following the merger or two of Australia's leading telecommunications companies, TPG and Vodafone Hutchison Australia, in July 2020.

TPG is one of the leading fixed broadband providers in Australia. With extensive and highly valuable on-net infrastructure, TPG offers products backed by world-class fibre and next-generation networks. We provide a diverse range of communication services to residential users, small and medium enterprises (SMEs), government, large corporate enterprises and wholesale customers. TPG offers nationwide NBN, ADSL2+, Fibre Optic and Ethernet broadband access, telephony services, SIM Only Mobile plans and various business networking solutions.

By having a culture of caring for customer experience and its people, TPG sets the industry standard for innovation and value, supplying services loved by renters, homeowners and businesses. Our people, products, network assets and innovation have enabled us to provide our customers with communication services that are reliable, fast and cost effective.

TPG owns end-to-end network infrastructure which includes extensive inter-capital and metropolitan fibre optic networks, and the international PPC-1 submarine cable connecting Australia and Guam with onwards connectivity to USA and Asia. As we own and operate our own carrier-grade voice, data and internet network infrastructure, we have the network capability to deliver exceptional performance across every level of the organisation and take end-to-end responsibility in the services we offer.
Corporate Offices
Sydney (Head Office)
Level 1, 177 Pacific Highway
North Sydney, NSW 2060
Phone: 02 9850 0800
Fax: 02 9878 3877
Brisbane
Level 17, 127 Creek Street,
Brisbane QLD 4000
Phone: 07 3233 9800
Fax: 07 3236 2498
Melbourne
180 Burnley Street,
Richmond, VIC 3121
Phone: 03 8414 3000
Fax: 03 8414 3999
Adelaide
Level 3 150 Grenfell Street,
Adelaide, SA 5000
Phone: 02 9009 9009
Fax: 08 8128 2099
Canberra
470 Northbourne Avenue,
Dickson, Canberra 2602
Phone: 02 9009 9009
Fax: 02 6240 3555
Subiaco
502 Hay Street, Subiaco,
Western Australia 6008
Phone: 02 9009 9009
Fax: 08 9421 2444
The TPG Journey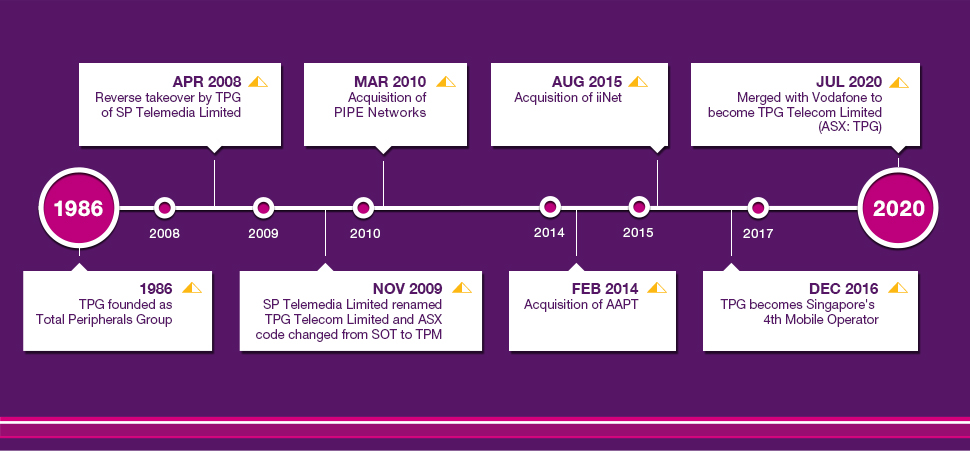 Career Opportunities
Join an Australian telecommunications industry leader now! Having grown and expanded rapidly in recent years, TPG is always on the lookout for talented and bright individuals in a wide range of areas such as IT, Sales, Marketing, Administration, Engineering and many others.

Protecting the privacy of your personal information is important to us. Check out our privacy statement to learn more about how we collect your information, what we use it for, and who we share it with.

Existing job applicants can log in here
TPG Network
International Fibre
PPC-1 Cable
Local Fibre
Sydney, Melbourne & Brisbane
Voice Interconnects
65 Call Collection Areas
DSLAM Capacity
400 Exchanges
Point of Presence
400+ Locations
Australia
TPG's nation-wide network is made up of Australia's largest Internet exchange and third largest metropolitan fibre optic network.


International
We own and operate our own information super highway with our submarine cable system between Australia and Guam, allowing us to terminate traffic into the USA and Asia.