TPG Fibre to the building
What is FTTB?
TPG Fibre to the Building (FTTB) is a high speed broadband service delivered using our own fibre optic network that has been installed in many metro apartment buildings in Australia, enabling Ultrafast typical evening speed of 90Mbps.
Why wait for the NBN if your building is TPG FTTB enabled now? Your service will be directly connected to TPG's network so you can stay clear of the evening peak time congestion that many Australians are complaining about.
Connect to this new technology and be amazed by its speed, reliability and value.
You need at least 25Mbps to watch 4K content on Netflix and YouTube. With our FTTB product, you can stream 4k on multiple devices without suffering the buffer!
Get FTTB on our no lock-in contract or enjoy free setup on an 18 month contract, both come with Wi-Fi modem included. Whether you are a renter or home owner, we've got you covered.
Great value, unlimited data
We think you won't find a better deal for Ultrafast Broadband in terms of download speeds, price and performance. Get unlimited data with typical evening speed of 90Mbps for just $59.99 per month.
HAVE A GO AND CHECK IF FTTB IS AVAILABLE AT YOUR PLACE

MORE REASONS TO CHOOSE TPG FTTB
M.M. of Zetland, NSW "I would liken this transition to driving an old car and then suddenly being given a brand new Ferrari. Thanks again for making this happen."
User on Whirlpool online forum "Is it just me or does this seem like the best internet service in Australia? I've been on it for a year now, full 100/40, no dropouts, no congestion, no speed issues, no outages…I can stream 4k Netflix easy, have the missus on YouTube while I'm gaming with no interruption and download as much as I want all for $69.99. Plus I was setup in less than one business day. Feels like we've won the broadband lottery guys!"
Flexibility
Move up or down your plan anytime without any change fee, keep an existing phone number or get a new one at signup. If FTTB isn't available, check out our NBN plans for an alternative high speed option.
Network Owner
TPG owns and operates the end to end Fibre network infrastructure to deliver our FTTB service which means we have full control over your service quality.
HIGH-SPEED WI-FI MODEM INCLUDED
Packed with the latest Wi-Fi 6 technology for great in-home Wi-Fi.
Phone service
A phone service is included in the bundle. If you want to make calls, they are Pay as You Go.
Unlimited data
With unlimited data plans, you can binge watch your favourite shows without worrying about download limits.
Join over 2 million customers
The TPG Telecom group is the second biggest fixed line broadband provider in Australia.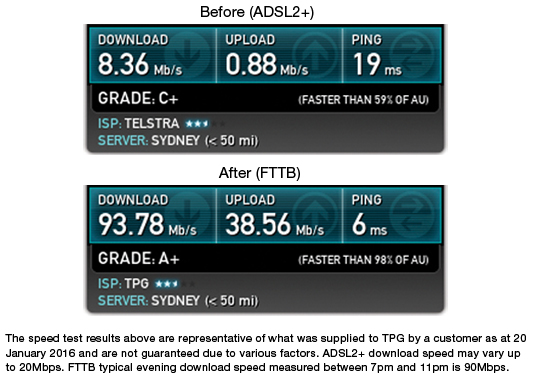 Much Better than ADSL
Take your Internet experience to the next level with speeds that let you stream movies on multiple devices, watch 4k content and download with ease.
FTTB
90Mbps typical evening speed
INTERESTED? CHAT WITH OUR TEAM OR BROWSE OUR PLANS