TPG NBN BUSINESS BUNDLES
FAST & RELIABLE INTERNET FOR YOUR BUSINESS
Fixed Internet Broadband is a key business communication tool, which is why we provide an NBN Business service that is fast and reliable to cater for your small business needs.
Take advantage of the most demanding applications over the Internet. We recommend our NBN50 plan which provides typical business hours speeds of 48Mbps from $79.99 per month.
Give us a call and speak to an NBN specialist from our Business Solutions Team to find the best solution for your business.
A Static IP is included with every TPG Business NBN plan so that you can host and remotely access your onsite content.
Our Unlimited NBN plans allow your team members to use as much upload and download data as they need such as download file sharing and backup to cloud services.
Our NBN Business bundles include a high speed 802.11ac Wi-Fi modem which provides amazing Wi-Fi speed and coverage for all your devices.
RAISE EFFICIENCY AND SAVE TIME
Increase your business productivity with faster download times, research and browsing.
Use your NBN connection for video conference meetings and presentations using applications such as Zoom and Skype.
Follow global trends by taking advantage of cloud based applications such as Salesforce, Shopify and Microsoft Office 365.
CHECK NBN AVAILABILITY AT YOUR BUSINESS

CONNECTION FEE ON 18 MONTH CONTRACT
CONSIDER OUR BIZPHONE ADD-ON
For an extra fee to complement your NBN broadband service you should consider our BizPhone product which is an effective voice solution packed with features designed for small business use.
INCLUDED CALLS
Starting at $29.95 per month get BizPhone Unlimited calls to local, standard national and AU Mobile numbers, there is no need to worry about call charges.
INCLUDED PABX & HANDSET RENTAL
With BizPhone add handsets and features as your business grows.
CONNECT EVERYWHERE
TPG BizPhone app turns your mobile phone, tablet or PC into an extension of your work desk so your phone system can work wherever you do, even when you are travelling.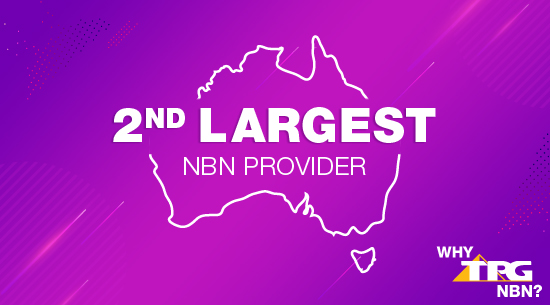 2nd Largest NBN Provider
Our commitment to providing amazing value with excellence in customer service has made our group grow to become the 2nd largest NBN provider in Australia with over 1.2 million NBN customers.
Sign up today to experience NBN the way it's supposed to be.
SPEAK TO OUR BUSINESS SOLUTIONS TEAM OR BROWSE OUR PLANS