PRE-ORDER YOUR NBN PLAN WITH TPG
It's time to get prepared for the NBN
While you wait for the NBN to reach your area, you can now pre-order your NBN plan with TPG a few months in advance to get ahead of the crowd.
At TPG we have an amazing range of plans on offer to get you started on the NBN, and pre-ordering is a fantastic way to ensure you're ready for the best value deal in town!
Pre-order your NBN plan with TPG and we'll fast-track you in the queue for a speedy installation when the NBN is ready.
There's never been a better time to consider which NBN provider to go with. Enter your address in our NBN checker below to see if NBN is available in your area.
NBN not available yet? Pre-order NBN from us a few months in advance. You can also leave your details with us and we'll contact you to get the ball rolling.
Is NBN already available in your area? Sign up for one of our unlimited NBN plans to experience the next generation of Internet.
TRY OUR ADDRESS CHECKER TO FIND OUT IF NBN IS AVAILABLE AT YOUR PLACE

FINDER AWARD WINNER FOR BEST HIGH SPEED NBN
MORE REASONS TO GET ON THE NBN WITH TPG
Teresa on Google Reviews "My NBN was installed and made fully active in a matter of few days. Even my home phone line was fully active just 1 day after installation. I couldn't be more satisfied. Thank you TPG. I later needed to upgrade my plan and this was done over the phone and activated immediately. No problems."
David on Google Reviews "Connecting with TPG was the most painless experience of my life. The technician was in and out so fast. The modem auto configured in no time and everything was up and running in minutes. Super fast NBN now. Couldn't be happier. Thanks TPG."
NEED A MODEM?
Go for a bundle and get a high-speed Wi-Fi modem included. Our modems come with the latest Wi-Fi 6 technology for great in-home Wi-Fi.
FLEXIBILITY
Move up or down your NBN plan anytime without any change fee, keep your existing phone number or get a new one at signup.
PERFECT FOR RENTERS
Go no lock-in contract or enjoy free setup on an 6 month contract. Both NBN deals come with a High Speed Wi-Fi modem included. Whether you are a renter or home owner, we've got you covered.
Highly Rated for Download Speed
We have been rated #1 for NBN average download speed 5 times in the Measuring Broadband Australia quarterly report by the ACCC.
2ND LARGEST IN AUSTRALIA
We started as a small company in 1986 and over the years the TPG group has now grown to be the 2nd largest fixed Internet provider in Australia.
SPEED OPTIONS
For families, we recommend our NBN50 sped tier. If you have multiple heavy Internet users in your home, then go for the NBN100 speed tier which is configured on the fastest NBN speed available.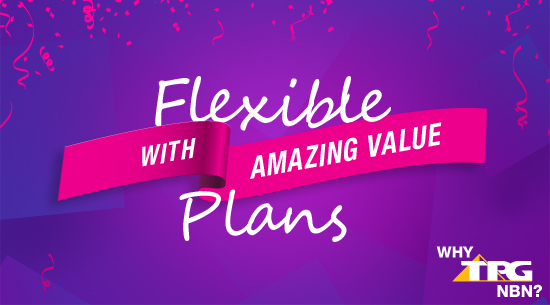 FLEXIBLE NBN PLANS
We offer you flexible NBN plans with amazing value for your home!
Starting from $59.99 per month for an unlimited NBN plan, all our plans are available on no lock-in contract and we won't charge you a change of plan fee when you upgrade or downgrade your plan.
Our NBN plans are built for you to get the most out of your home broadband connection.
INTERESTED? CHAT WITH OUR TEAM OR BROWSE OUR PLANS